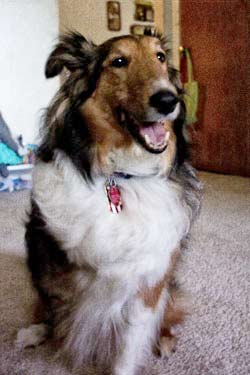 In January 2000, a Sheltie with a serious leg injury was found in Wichita, KS. Because of the extent of the injury, it was suspected that he had been hit by a car. Exhaustive efforts were made to locate his owner, but nobody stepped forward to claim him so he was taken in by a foster home that volunteered for a local animal rescue group. He was named Shadow. His foster mom grew discouraged because the rescue group would not spend the money to properly diagnose and treat Shadow's extensive injuries. Determined to give him the medical attention that was needed, his foster mom left that rescue group and took Shadow with her.
A small group of dog lovers, including the person who originally found Shadow, worked diligently and were able to raise $1,200 for the surgery to fix Shadow's badly injured leg. Sadly, had Shadow received the proper medical treatment when he was first found, his leg could have been corrected and on the path to healing much sooner and at a much lower cost. Because he had to wait so long for treatment, it became a much more complicated, difficult and costly surgery. Although Shadow made a full recovery from the initial surgery, one of the titanium screws used to repair his leg became infected and the difficult decision was made to have his leg amputated. Shadow recovered quickly from the second surgery and lived a great life on three legs.
Shadow became the inspiration for a brand new rescue group when he was adopted by a family who later became founders of Kansas K-9 ResQ. Shadow passed over the Rainbow Bridge on May 2, 2005, after a courageous battle with cancer. His legacy lives on in the hearts of many and through the success of the rescue that he inspired…
Kansas K-9 ResQ was founded in 2001 by Shadow's foster mom and the couple that adopted him. Inspired by Shadow, this group formed their desire to help other unwanted dogs. The founders vowed that a dog in their rescue would never go without proper and timely veterinary care, as Shadow had. They came up with a simple mission statement for their newly formed rescue:
"Making the world a better place, one dog at a time."
With a handful of members and a very tight budget, only four dogs were adopted into forever homes that first year. Since that time, our group and our budget have grown substantially. In addition to the generosity of donations, our group members work tirelessly to raise funds to help dogs in need. We hold raffles, microchip clinics and a vast variety of other fund raisers. Over the years we have saved the lives of many hundreds of dogs.
The dogs in our program are typically unclaimed strays from the Wichita Animal Shelter. A vet promptly sees all dogs that are taken into our program and their medical needs are attended to immediately. The dogs in our care live in foster homes where they are crate and house trained and assessed as to what kind of permanent home would best suit them. They live with their foster families until their forever home is found. We are proud of scripting happy endings for many once-discarded animals.
The original founders continue their work with the rescue, and over the years they have inspired many other people to join them in their efforts. We now have a nine-member Board of Directors and dozens of foster parents and volunteers. Our group includes members who come from all walks of life, and are united with a common love for dogs and the desire to help animals in need. Kansas K-9 ResQ volunteers are extremely dedicated and through their hard work funds have been raised to help many animals in need. No longer having to scrape by, we regularly help dogs with special needs, such as those who have been confiscated in hoarding cases, cruelty cases, and in puppy mill raids; dogs that have been hit by cars; dogs with severe skin issues; dogs with heartworms; and dogs that have had major leg and joint injuries. We take in dogs of all ages and all breeds. Kansas K-9 ResQ volunteers work hard to continue Shadow's legacy. His memory inspires the members of this group to continue our mission of "Making the world a better place…one dog at a time."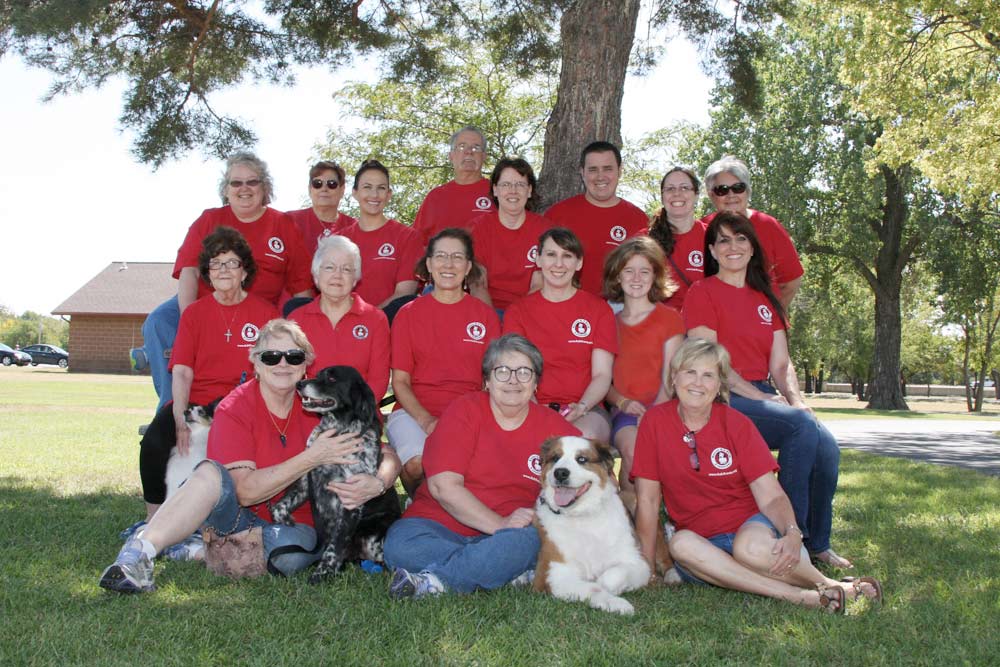 Kansas K-9 ResQ is a 501 (c) 3 Organization